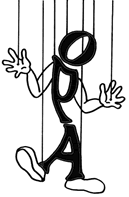 Puppets can be anything, say anything and do anything. The only limit is your imagination. We invite you to support the growth of this ancient, yet most contemporary art. Here is an opportunity for you to connect with other puppeteers and puppet enthusiasts and take part in the renaissance of this wonderful art form! Established in 1956 and incorporated in 1972, the

Ontario Puppetry Association

has been recognized both nationally, in the USA and abroad as the prime organization promoting puppetry arts in the Province of Ontario.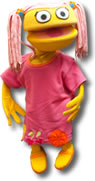 This web page and our newsletter the

OPAL

connect you with other puppeteers in Ontario regardless of location. The yearly meetings and occasional special events provide the opportunity to socialize and exchange ideas. Our membership is being rejuvenated with an influx of talented young professionals and puppet practitioners.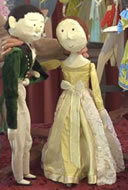 In 1995 the extensive

OPA

collection of Canadian and International puppets -- at the time housed in the Puppetry Centre in Toronto -- was donated to the

Canadian Museum of Civilization

in Hull. It has been catalogued and a considerable portion of it professionally exhibited over the past few years.

The

OPA

collection has now become a gift to all of Canada and is available to researchers and the public for the foreseeable future.

You can now see some of the

OPA

collection on the Museum's web site: www.civilization.ca/arts/ssf/ssf00eng.html